Fashion Photographer Nick Knight on Alexander McQueen
The Wall Street Journal - Luke Leitch (2015)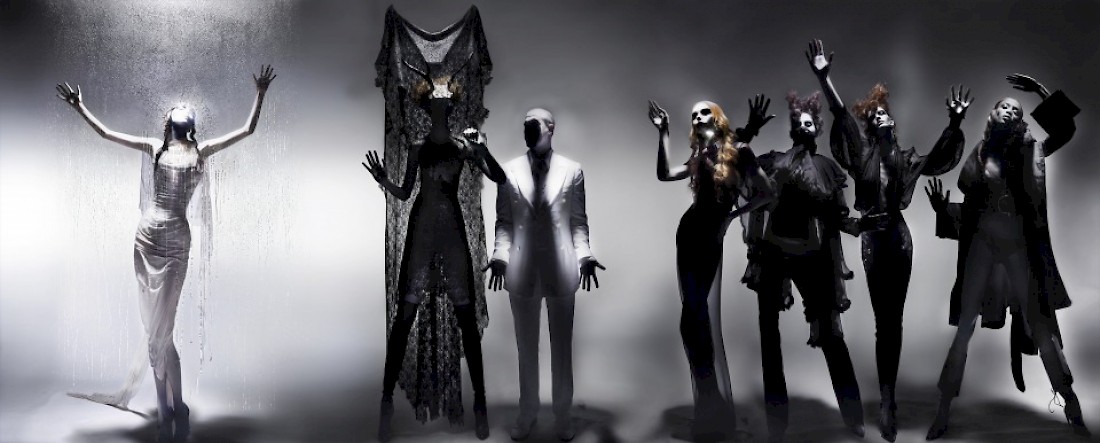 "Nick Knight repeatedly calls himself an "image-maker"—but everyone else in fashion calls the 56-year-old one of the most influential photographers in the business."
LUKE LEITCH
SITTING AT HIS DESK surrounded by laptops and surveyed by a maquette of Kate Moss with wings, Nick Knight repeatedly calls himself an "image-maker"—but everyone else in fashion calls the 56-year-old one of the most influential photographers in the business.
As a young freelance snapper for London's music press in the 1980s, Mr. Knight shot bands like Funkadelic and partied at the city's colorful Blitz and Taboo club-nights. It was here that he encountered John Galliano, Leigh Bowery and the rest of London's emerging countercultural elite, whom he photographed for magazines including i-D and The Face. He has shot scores of Vogue covers, and campaigns for everyone from Dior to Diesel, and in 2000 founded SHOWstudio.com, an ideas lab dedicated to his conviction that fashion's future will be defined by film.
Today, he's finalizing a portfolio of images shot 11 years ago with one of his closest collaborators, the late Alexander "Lee" McQueen. Five years after the designer's suicide, and to mark this week's opening of"Savage Beauty" at the Victoria & Albert museum, Mr. Knight is bringing to light "Black," a previously unseen study of the creations the designer considered the best of his career. As he reflects on McQueen's life, we caught up with him about their relationship, the changing nature of image making and the future of youth culture.
The first time I encountered Lee was at a Vogue Christmas party in the mid-'90s, at San Lorenzo. I am not much of a partygoer and I got the impression that Lee wasn't, either. But you find your path to people whose work you admire. I was just getting up to leave—early, at half past 10 or whenever—and someone pointed him out. He was at his table, looking really grumpy.
The fashion world is not that big. Look at the Italian fashion designers who are all in their sixties or seventies. People don't come and go as quickly as one might imagine because this a medium based on change.
When I was 12, I developed a schoolboy crush on my 14-year-old neighbor. It changed me profoundly because she was a skinhead. Suddenly I wanted to be a skinhead, too. Your teenage years are so crucial to shaping what you become later. It's the time where you work out who you are. More than 40 years later I'm still that.
The idea [behind 'Black'] was to recreate the end of Lee's Voss show. I photographed 35 models, and Lee, and [choreographer] Michael Clark who opened the show, dancing with Kate Moss. They were spotlit from above, all pressed up against a pane of glass. Afterward, though, we never found the time to put the images together. They have sat in a box for 10 years.
Lots of photographs that I did of [McQueen] were about the pressures that he felt, how he wanted to articulate the feelings that he had. One picture is of him in a padded cell, in chains, hanging from his own flesh. There was another shot we did where his head was exploding. At the time I just felt it was more imagery. You look back at it with the sad benefit of hindsight and you can see that perhaps those cries were more heartfelt than we imagined.
He never seemed the sort of person who was going to take his own life. He always seemed so sure of himself and so tough, in a confrontational way. You felt he was going to take on anybody; the fashion world, the art world, anybody. He wasn't frightened of anything.
Kanye [West] is a bit like Lee was; he is super quick and has a super-precise vision of what he wants. I did a lot of work with him about a year or so ago. He sat up close, and he rapped to me for 40 minutes. It was his scriptures—and it was mind-blowing.
My favorite chair at home is a Marcel Breuer,covered in ivory-colored suede. That's the chair in which I think. And as I sat in it, it occurred to me that most people have chairs where they sit and create. So we asked artists if we could borrow theirs for our panel debates: We had Hockney's stool and Lucian Freud's chair.
My wardrobe is super-narrow. I wear brogues by Trickers, suits by Kilgour, jeans by Levi's—505s, which they recently started making again—and shirts by Frank Foster. He's an incredible man; looks like Marlon Brando, was a boxer, drove an Aston Martinthroughout the '60s and '70s and is now 93. He's one of those old-school shirtmakers of whom sadly there are very few left.
Not so long ago you wouldn't see anything from the Paris fashion shows for three months. Fashion now is so accelerated to the point that we are seeing the stuff hit the catwalk live. I don't want to claim things that aren't mine, but SHOWStudio launched that with Alexander McQueen's Plato's Atlantis—that was the first show to be streamed live as an event.
Nearly every image that people are seeing has been processed by a committee. I don't think people always understand that. Increasingly it is done with less artistic input and more commercial input, controlled only by a corporate desire to sell more. So artistic decisions are made by people who don't know how to make them.
Youth culture now is different. I can remember being in my parents' car and seeing the Ton-Up boys under a bridge on the North Circular and thinking: They look dangerous, they look exciting. Nowadays you don't see that.... You do find subgroups and cultures on the Internet. I came across this young Spanish artist called Rei Nadal, only just out of fashion college, and the Tumblr she was curating was great—everything was in her power. And her friends, the people she's talking to, aren't just in Barcelona, they're in Denmark or New York. It's not about being regional any more.